SAFETY VIDEOS & WAIVER:
Republic Shooting Range does require that all guests read their range rules, watch the safety video and sign their waiver. It is available online or you can complete this at the range on the day of the event. https://republicshootingrange.com/#Rates
Read the Range Rules and then sign the waiver in advance of your visit or you can read and sign them at their facility. A separate waiver must be completed as a guardian for any children under the age of 18 (multiple minors can be on one waiver).
Please approve the permission notification popups that appear on the waiver site. These are needed to submit the needed materials electronically. 
Have a great event everyone!
Thank you to Our Sponsors!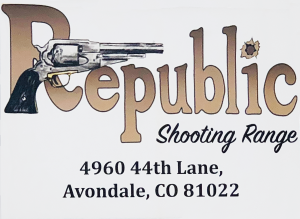 Republic Shooting Range contact info:
Email: republicshootingrange@gmail.com
P: 719-283-2010
HOW TO FIND US
From 1-25 take exit 98A
Turn right onto 40th Lane
Head south toward Undercliffe Rd
Turn left onto Undercliffe Rd
Turn left onto 44th Ln
Turn right